August, 2019
FUNMATICS - VIEWPOINTS IN MATHEMATICS
MATH WORKSHOP FOR PARENTS (III-V)
17th August,2019
An engaging workshop was organised to help parents see Mathematics not just from academic lens ,but also view its wonders beyond the classroom.Parents actively participated in activities like color theorem and Fibonacci sequence .
Chaupal-Class I
17th August,2019
Chaupal on "Childrens' Voices for class I parents held in school on the 17.8.2019,Saturday.The speaker for the session was Dr. Sameer Malhotra, Clinical Psychologist and Director Max Hospital.
Bluebells in Japan
6th -8th August, 2019
Granth Bagadia of class XA and Sarthak Banerjee of class XII A under the guidance of Ms Mitali Debnath Roy, presented their project on SMART OFFICE, in the Super Science High School Students Fair (SSH) 2019 at Kobe Japan from 6th to 8th of August. The Fair is organised by Ministry of Education and Japan Science and Technology Agency (JST).
July, 2019
Bluebells@Japanese School, New Delhi
30th July,2019
160 Bluebellians along with their teachers, from grades 1-12 ,visited the NEW DELHI JAPANESE SCHOOL on 30th July ,2019 for the YOKOSO JAPAN DAY.
They were exposed to various forms of Japanese dance, origami, Wadaiko , Japanese traditional and modern sports and games ,yukata wearing, calligraphy etc .The students had an amazing and enriching experience and the opportunity to make new friends.Cheers to global frienship!

Transformative Learning Through Cultural Exchange
@PULWAMA, KASHMIR
1 teacher and 5 students from Dolphin International School Pulwama , Kashmir , visited Bluebells from 12-20th july 2019 . The visitors were hosted by our teacher and students and particpiated in a gamut of activites at school-madhubhani art, folk dances, folk songs,heritage walks and visits and were a part of an enlightening session by WISCOMP on identities, peace and tolerance .
@SABEL, MUNICH


9 students along with teacher escort Ms Ruchika Mehra visited our longtime partner - the Sabel School, Munich from 27th may - 8th june 2019 . The trip involved completing the project started at Bluebells on art and architecture of both the countries . The highlight of the trip was our students meeting the Indian Consul General .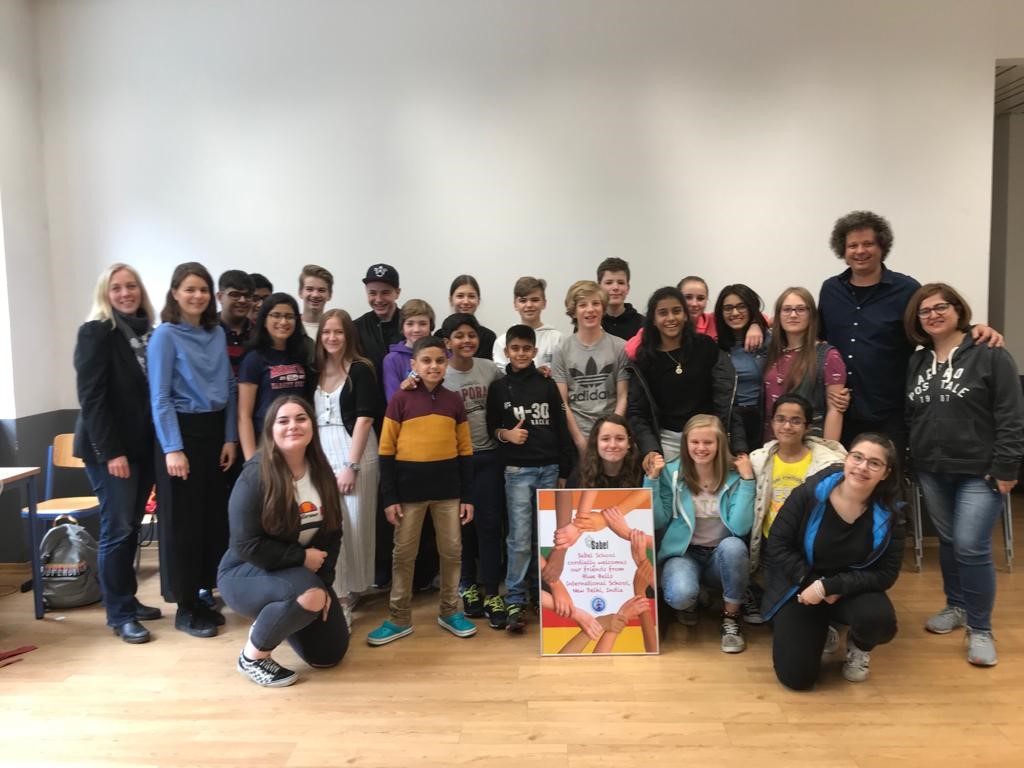 @RITSUMEIKIN,KOBE-JAPAN


17 students with 2 teachers visited Japan from 29th may to 8th june as a part of our annual exchange programme with KEIMEI GAKUIN, Kobe AND RITSUMEIKAN HIGH SCHOOL Kyoto. There were thrills and frills leading to an amazing experience with homestays, sightseeing , experiencing Japanese culture,disciplined lifestyle and interactions with hardworking society members. The students also visited the Indian Consulate at Osaka .
@GSD SPAIN


5 students and 1 teacher from , Bluebells visited Spain to attend a summer camp - The Young World at GSD group of schools, Spain . The camp brought the students in close proximity with nature satisfying their wanderlust with daring activites such as-Kayaking, rafting,snorkelling, rappelling, caving, hot air ballooning-giving them lessons for life!
Chaupal-Class 3
27th July,2019
A "Chaupal" was held for Parents of Class 3 students on Saturday, 27th July 2019.Dr Poojashivam Jaitely addressed some of the growing concerns of Third graders providing some useful insights to parents to deal with them.
Book Week
23rd -26th July,2019
ENIAC-Virus-26.07.2019
ENIAC Club hosted it's biggest endeavour ,VIRUS'19.It was the 18th installment of the annual computing mega fest hosted by Bluebells School International.
Mr. Mukul Ojha , Founder and Managing Director Bluearth Energy graced the occasion as a Chief guest and Ms. Swati Ganguly founder of Juana Technologies was the Guest of honour.The program comprised of 6 different innovative events which gave the participants an opportunity to showcase their creative skills. This year Modern School, barakhamba won the Rolling Trophy.
Bhaskara Day-25.07.2019
The prestigious" BHASKARA INTERSCHOOL MATHEMATICS COMPETITION 2019" was organised on 25th July 2019 with an enthusiastic participation from Delhi and NCR schools .
The highlights were MATHEMATICAL QUIZ (IX-X) and MATHEMATICAL CREATIVE CORNER (VI - VIII). This year St Mary's won the Bhaskara Rolling Trophy with Bal Bharti, Pitampura coming close behind to bag the Runners Up trophy.
Lingua Fiesta-24.07.2019
English Day event 'Lingua Fiesta' organized by the Department of English, saw fourteen prestigious schools from Delhi NCR, vie for the coveted Rabindranath Tagore Rolling Trophy, as they critiqued D H Lawrence's novel –Sons and Lovers, the relevance and resonance of his writings in present times.Gyan Bharati Team lifted the Trophy, Vasant Valley School were the Runners Up.
Dr Hema Raghavan was the Keynote speaker and eminent academicians from Delhi Univ. were the judges for the event.
Pratibha Diwas-23.07.2019
On 23rd July, 2019 Bluebells school, Kailash had organised inter-school Kahani Manchan Pratiyogita to develop a harmonious and healthy environment among the schools in Delhi. This year Sardar Patel Vidyalaya won the Rolling Trophy.
Pre School Orientation@BBS
20th July,2019
The Pre School Orientation was held on the 20th of July 2019 in the school auditorium. Dr Venita Kaul, an eminent Early childhood educationist was the chief guest.She shared her views with parents on the importance of developing the socio-emotional skills and keeping in mind the 5C's in the beautiful journey of parenting. The importance of a collaboration between parents and teachers to bring up healthy, happy and independent children."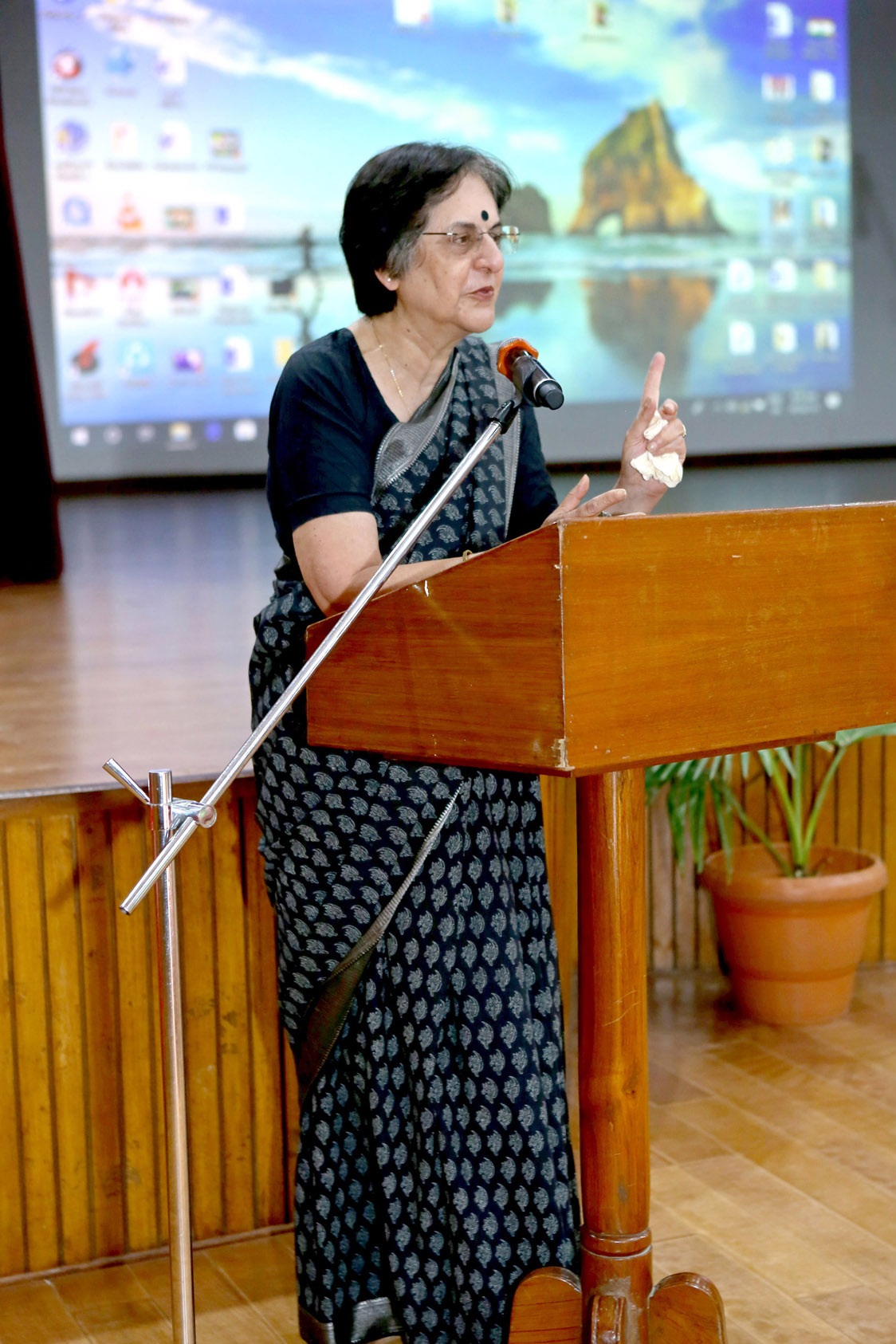 Bluebells celebrates Nelson Mandela's
Birth Anniversary
17th July,2019
Blubells school International on the 17th of July 2019, celebrated the birth Anniversary of Dr Nelson Mandela. The students put up a multi cultural extravaganza, where the life and struggle of Dr Mandela was brought to the stage. This year we also celebrated the 150th anniversary of another great Leader Mahatma Gandhi. Together the lives of these two great men has inspired many of us to work towards a world where people inspire greatness in each other. The event was attended by many dignitaries of the South Afrcian commission, and the Guest Speaker was Mr Suhas Borkar, who spoke at length about the sacrifces made by Dr Mandela and Gandhi.
Staff Development Programme
1st- 4th July, 2019

On going professional development is the hall mark of Bluebells and keeping pace with students learning needs a very important aspect of pedagogy.
On the 1st and 2nd of July, Professor Marmar Mukhopadhyay, Chairma ETMA Council, Gurugram along with Mr Subhash, Associate Professor, CIE Delhi University, conducted a workshop for teachers.
Under Professor Mukhopadhaya's training teachers sucessfully worked on understanding and preparing lessons based on the Flipped Blended Learning Design Module.
At the Ms Mohindra memorial Lecture on the 3rd of July Mr Anuraag Kundu, Member, Delhi Commission for Protection of Child Rights (DCPCR), Government of Delhi, addressed teachers on Child rights and Nation Building.
May, 2019
Extension Lecture-Class XII
14th May, 2019
Honourable Mr Justice Kurian Joseph, former Judge Supreme Court of India, Himachal Pradesh in a conversation with students of grade XII on the 14th of May. The topic for discussion was "Ethics and Nation Building".
Star Gazing@Bluebells
10th May, 2019
From the craters of Moon,to friendship of Binary Stars, observing moons of Jupiter to rings of Saturn- a Fun-Filled Stary Night @Bluebells Terrace
BSF Youth Fiesta
2-4th May, 2019
The Youth Fiesta is one of the most awaited of events that gives wings to the creativity of the Bluebellians.It was held from the 2nd to the 4th of May ,2019. The action behind the scenes, brainstorming for ideas to staybacks, the students took full ownership and responsibility of the show and a healthy air of camaraderie and sportsmanship prevailed . The audience got to see some breath-taking performances lending charm and chutzpah in dollops to the event.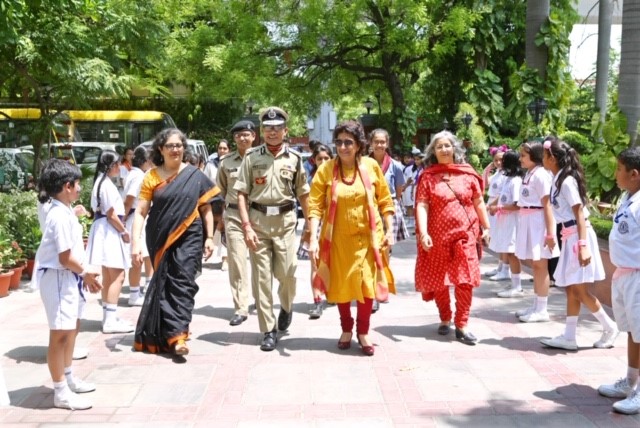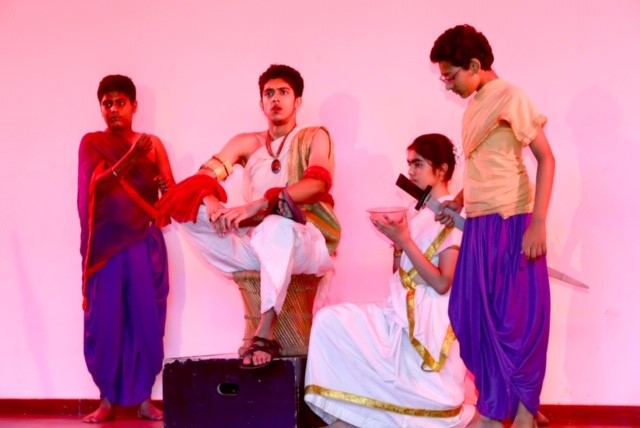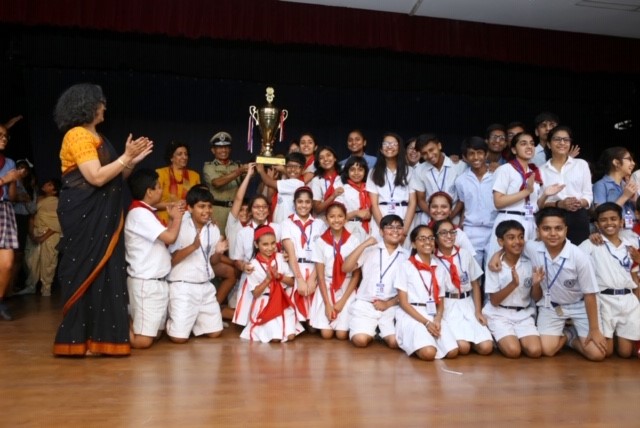 April, 2019
The 15th Africa Week@ Springdales,Pusa Road
26th April,2019
Our Students (Domingas Elonga - XII , Anika Sharma-XII and Aryan Kalra- XII) participated in The 15th Africa Week Inter School Multimedia Presentation Contest organised by Springdales School, Pusa Road on 26th April, 2019. The students won the First Prize.
Extension Lecture-Class XII
25th April,2019
Mr Alag Natrajan aka Mattkaman shared with students of class XII "Unconditional service to others".
Community Day@Bluebells
24th April,2019
Bluebells School International celebrated Community Day with the spirit of innovation and curiosity on 24th April 2019 at Atal Tinkering lab , with students from Saraswati Bal Mandir , Amar Colony. Children enjoyed learning through Snap Circuits,Lego kits, 3D printing and rocket building activities.

Pushkin Day@BBS
24th April,2019
The Bluebells Russian Literary Confluence 2019 was celebrated at Bluebells School International in collaboration with the Russian Embassy School, New Delhi on 24th April .
With stunning Russian dance performances by the Russian students and lively rendering of Pushkin's poems by the students of both the schools, followed by a quiz on Russian literature ,art,culture, history, geography etc,it was indeed an interactive, educational and enjoyable experience for the students.
BLUEBELLIANS VISIT EIB SCHOOL, PARIS
10th April - 23rd April, 2019
Ms. Pooja Bose and Ms. Shweta Gulati escorted 13 Bluebellians to EIB School, Paris from the 10th of April to the 23rd of April,2019 for a Cultural exchange programme between the 2 schools whereby our children familiarized themselves with the French culture, education system, the rich cityscape of the 19th century,the art, fashion and gastronomy.The highlight of the stay was a workshop by filmmaker David Vital - Durand.and the creation of a short film on the topic "CULTURE SHOCK"by the Bluebellians.
Extension Lecture-Class XII
11th April,2019
Mr Madhavan K Palat an Indian historian, scholar of modern world, and political commentator discussed with students of class XII the 'Foot Prints of Genocide"
Guneet Monga Kudos ! @Bluebells(2000-01)
We are proud of you…… Congratulations on your roaring success at Oscars,2018-19 for your Documentary 'Period. End of Sentence'
QUINTESSENTIAL SHAKESPEARE
15th April,2019
On the 15th of April Class 12 presented -"Quintessential Shakespeare", a special assembly celebrating the timelessness of William Shakespeare's works as a playwright, poet, actor and writer. Vignettes from his famous plays -Hamlet, Mcbeth, Julius Caesar, King Lear were the highlights of the show providing an awe-inspiring experience for the spectators.
MICROSOFT EDUCATIONAL EXCHANGE @PARIS
E² | Education Exchange is an exciting annual event that hosts more than 300 of the most outstanding educators across the globe from the Microsoft Innovative Educator network. This year the event was held in Paris and one of our teachers Ms Bhavi Ahuja was selected as Microsoft Innovative Educator for innovation in using technology in Education.
February, 2019
28th February,2019
Bluebells celebrating the Spirit of technovation at Atal Tinkering Lab@BBS with Dr. Unnat Pandit(NITI Aayog) and Karamveer chakra awardee young innovator Mr. Yashraj Bhardwaj.
Visit to Astroport,Sariska-Class 8
10.2.2019-11.02.2019
The eighth graders got an opportunuity to travel to and explore Astroport in Sariska.The visit was power packed with team building activities, night sky observation, trekking ,Jungle Safari -where the students spotted the Big Cat Family ,various animals and exotic species of birds. The Cultural extravaganza provided some fun-filled moments as the children witnessed a show of theatrical skills.
The experiential learning added a new dimension to the entire experience by giving the young learners new ideas for their Astronomy project .
Streams and Making Choices- Class X
9th February,2019
Dr Kanika K Ahuja, Assistant Professor, Department of Psychology, Lady Shri Ram College, addressed students and parents of class X on " Streams and Making Choices" for their Senior Secondary Education.
Children's Voices-Chaupal-Class 7
9th February,2019
The school organised an interactive Chaupal session for parents of grade VII, presided by Dr Sameer Malhotra, on 9th February, 2019. While discussing children's voices, Dr Malhotra addressed several pertinent issues afflicting parents , also employing them with possible resolutions to their grievances during the open discussion that followed.
AN AMALGAMATION OF CULTURES....INDIA DAY
6th Feb, 2019
As a part of our annual cultural exchange with the New Delhi Japanese School (NDJS) that has been going strong for the last 28 years Bluebells played host to 144 students,15 teachers and parents along with the principal of NDJS to celebrate India day with gusto.There was an impressive display of Indo-Japanese fusion in the form of Wadaiko or Japanese drums ,traditional Indian and Japanese dances,Ohayashi performance and Japanese songs rendered by the Japanese students from grades 4 to 9.The Mathematical brain teasers, Jataka tales,artistic mirror work,Bhangra ,kho kho and kabbadi added to the learning with fun element.The day ended with students of both the schools playing Holi together with a smattering of beautiful marigold flower petals sealing the spirit of love and camaraderie between the 2 schools.
Valedictory Ceremony
2nd Feb, 2019
On 2nd of Feb, Bluebells School International celebrated Valedictory Ceremony to bid farewell to out-going batch of 98 students of class XII. May they be the ambassadors of Peace and Brotherhood. We wish them well for all their worthwhile future endeavors.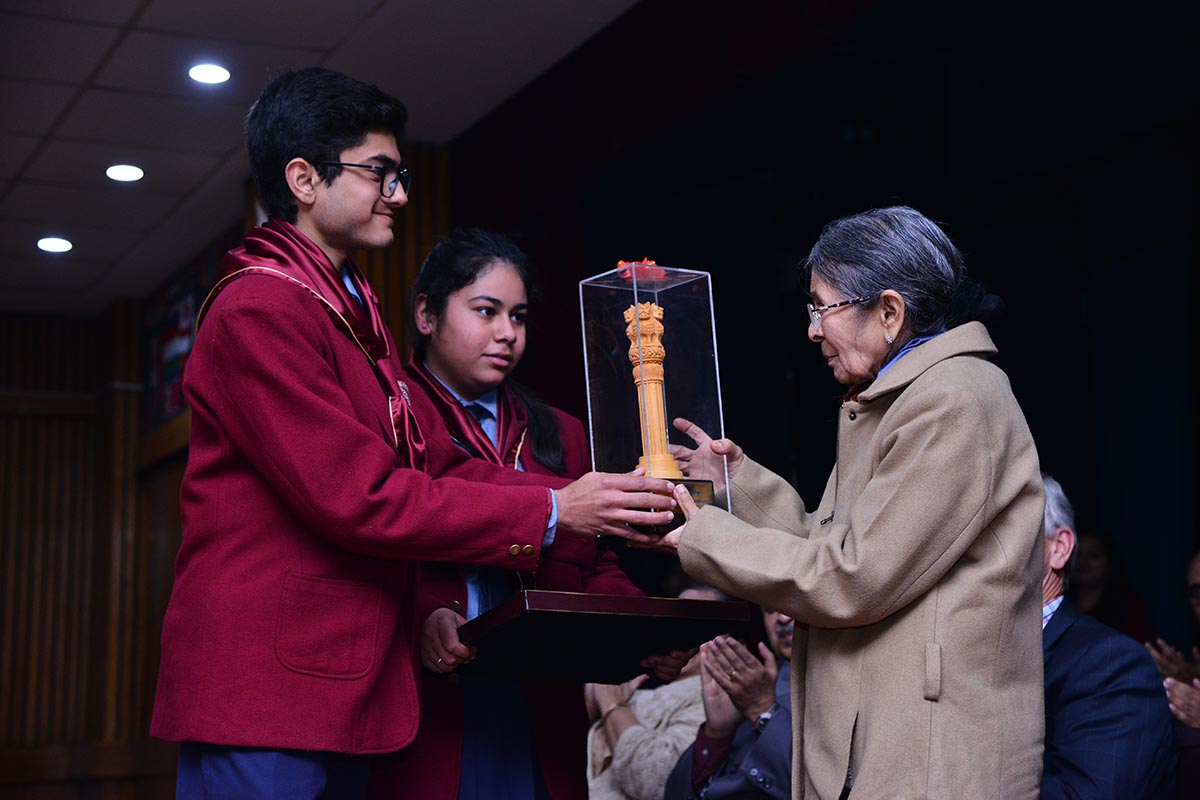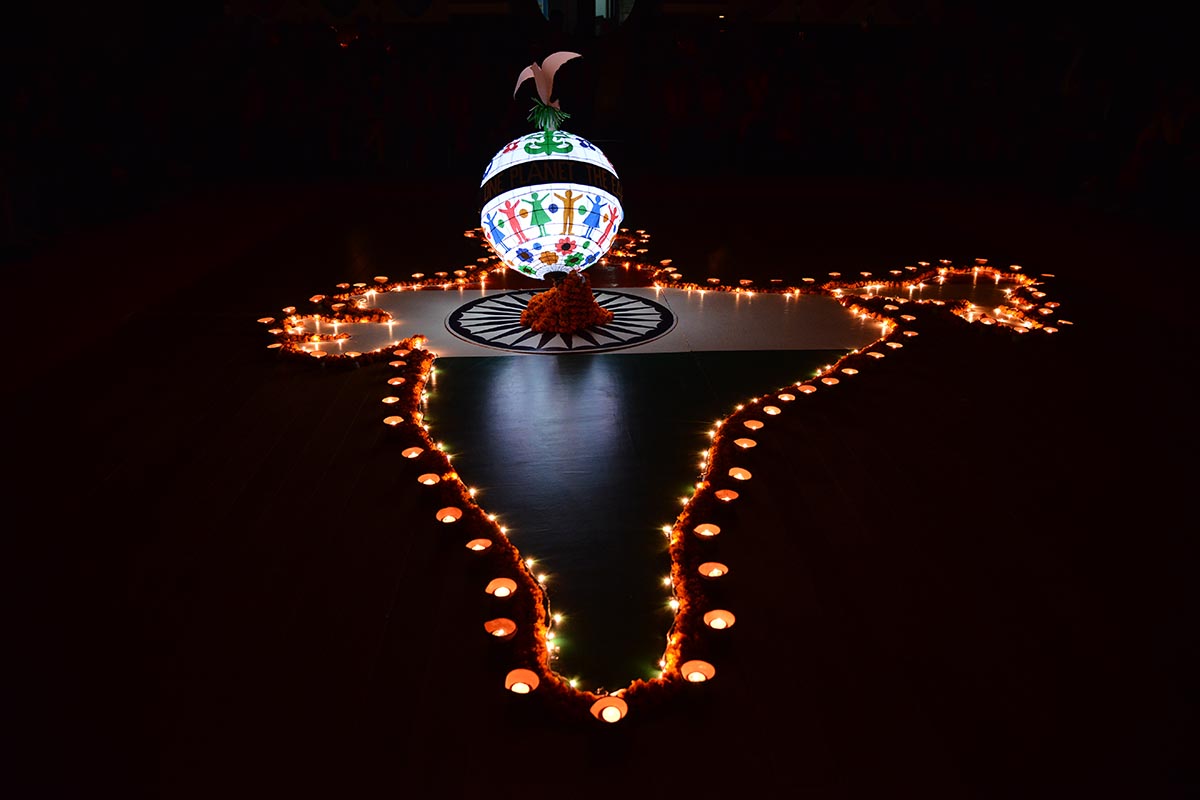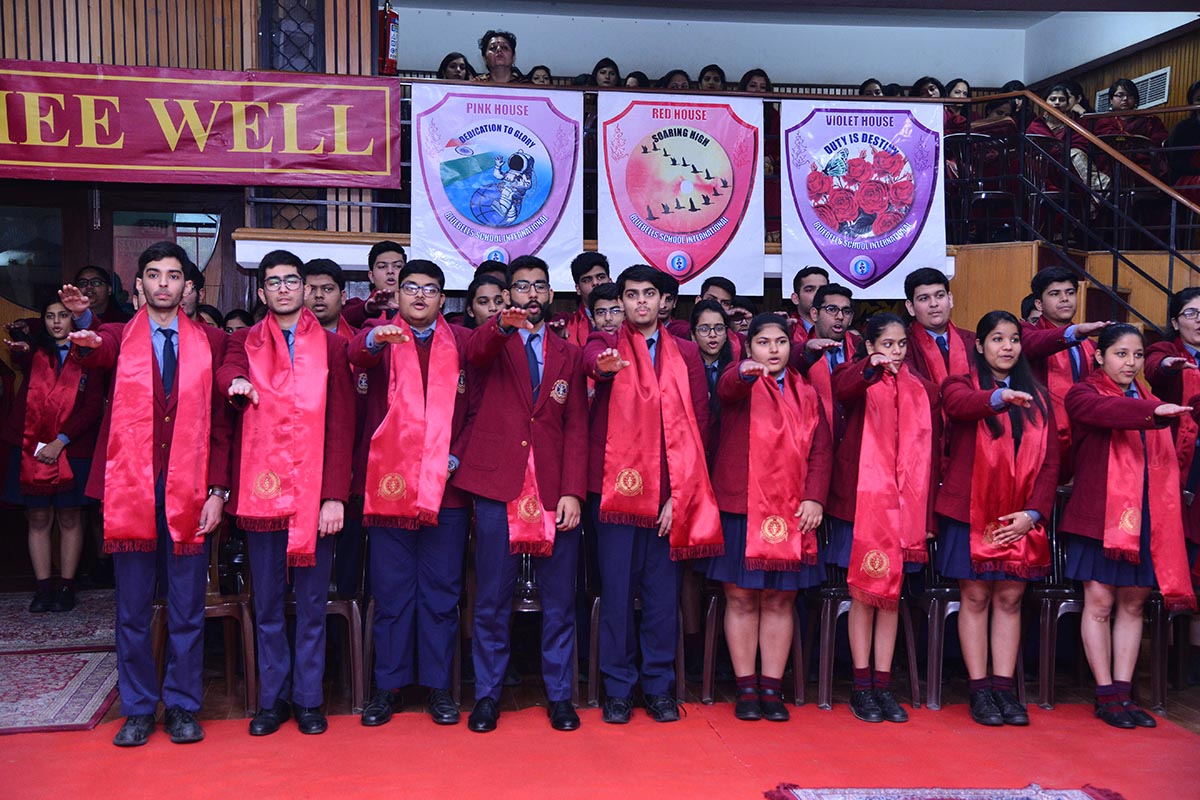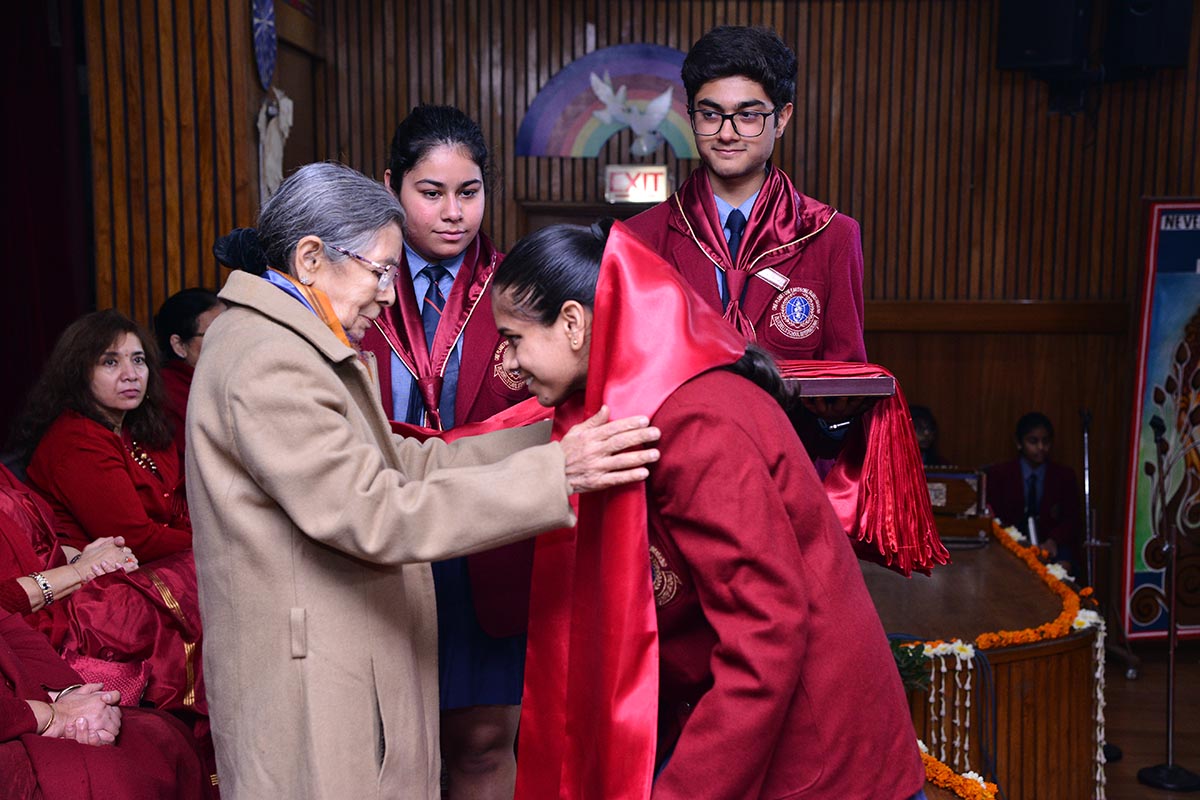 We are delighted to reinforce our commitment to environmental preservation through newly installed solar panels that harness the sun's energy for our needs, in the school campus. Our clean green environment initiatives take a leap forward as technology traps nature's resource to secure our future.
Mr. & Miss. Bluebells
25th Jan, 2019
It was a powerful amalgamation of beauty and brains at the Mr. and Ms. Bluebells held in the school auditorium on Friday, the 25th of January, 2019. 22 candidates vied for the coveted titles going through the general awareness, talent and extempore rounds confidently and gracefully exuding the Bluebellian charisma.
Savita Tripathi of XII- C, Aakash Chaudhary of XII-A bagged the titles of Ms. And Mr. Bluebells and Saanjh Shekhar of XII-C and Vedanta Bhattacharya of XII-A won the Ms. And Mr. Talent.
Gymnasium Sudderelbe Hamburg visits Bluebells-
Cementing strong cultural ties
15th-28th January,2019
The Gymnasium Sudderelbe Hamburg, Germany visited Bluebells school international from 15 to 28 Jan 2019 as part of our 8 year partnership as a friendship school since 2011 . The delegation consisting of 8 students and 3 teachers enjoyed homestay with the host students and teachers.There was a fine amalgamation of various cultural and sports activities at school along with regular classes. The students of the two countries are working on a project on the topic- "Women Empowerment" in India and are currently visiting Agra andJaipur.

On the 21st of January the host and guest students enjoyed bonhomie at the cultural evening with the parents, teachers and host students . Ms Kavita Chabbra, project manager Pasch Geothe Institute, New Delhi also graced the fun -filled evening as the special guest .
Chaupal-Class 3
19th January,2019
Chaupal on " Children's Voices" for class 3 parents was held in school on 19th January, 2019 , Saturday, from 8:00- 9:30 am. The speaker for the session was Dr Pooja Shivam Jaitley, Clinical Psychologist.
December, 2018
Chaupal-Class VI
29th December,2018
Chaupal for grade 6 was organized on Saturday, the 29th of December,2018 . Dr Sameer Malhotra, Clinical Psychologist and Director at Max hospital addressed the gathering on the behavioural issues specific to the sixth graders and reiterated that listening patiently to the chidren's voices would help adults see things from their perspective to help them channelize their strengths towards their better future.
Bluebells welcomes the Japanese Delegation
28th December,2018
Bluebells School welcomes the delegation from Keimei school,Kobe_Japan to a collaborative cultural exchange to develop institutional linkages for the enrichment of youth.
Workshop on Fire Safety Measures at BBS
15th December,2018
Mr. Ankit from Super Fire Safety Organization trains Bluebells Staff on using a Fire extinguisher as part of the workshop on School Safety.
Japanese GUNDOKU 2018 at Bluebells
14th December,2018
Bluebells school international hosted the 2nd edition of the Japanese Gundoku 2018 competition organised by the Japan foundation - JALSTA and supported by the Japan Airlines on the 14th of Dec 2018. 11 schools from Delhi NCR and 1 school from Nagpur participated in the competitive event. Mr Kobayashi, first secretary Embassy of Japan was the Chief guest for the day . He applauded the efforts of the host school and congratulated the participants for their witty display.
Write a Master Piece
13th December,2018
A workshop for Class V students conducted on December 13th 2018 by Zurich based children's Book Author Mr. Brijesh Luthra
Congratulations!
2nd-5th December,2018
Bluebells International participated in the 8th International Young Mathematicians'Convention(IYMC), 2018,an international Mathematics Contest that seeks to give mathematical expression to the inner creative urges of the youth. Our team brought laurels galore by winning 2 silver medals and 2 bronze medals in Maths Wiz and second runners up in Mathmania.
Bluebells-Sabel Cultural Ties
25th Nov-7th Dec,2018
Bluebells School International hosted it's long time exchange partner the Sabel School ,Munich- Germany from 25 Nov-7 Dec 2018 welcoming a delegation of 14 students and 2 teachers.The agenda included collaborating on meaningful projects like solar energy and social media films funded by lifestyles Culture Bosch. The students also worked together on a digital art project on the architecture of both the countries that will culminate next year when Bluebellians visit Sabel School, Munich for a reciprocal exchange .Our friends also learnt about Indian Folk art, craft, sports and dance. Participation was evident with full enthusiasm in the International sports meet held in the School grounds on 1st Dec 2018 in collaboration with Undokai dreams association.The farewell was a special event where the students presented their project before the audience.Mr. Procolino Antacido, Principal- German school, New Delhi was the honoured guest for the evening.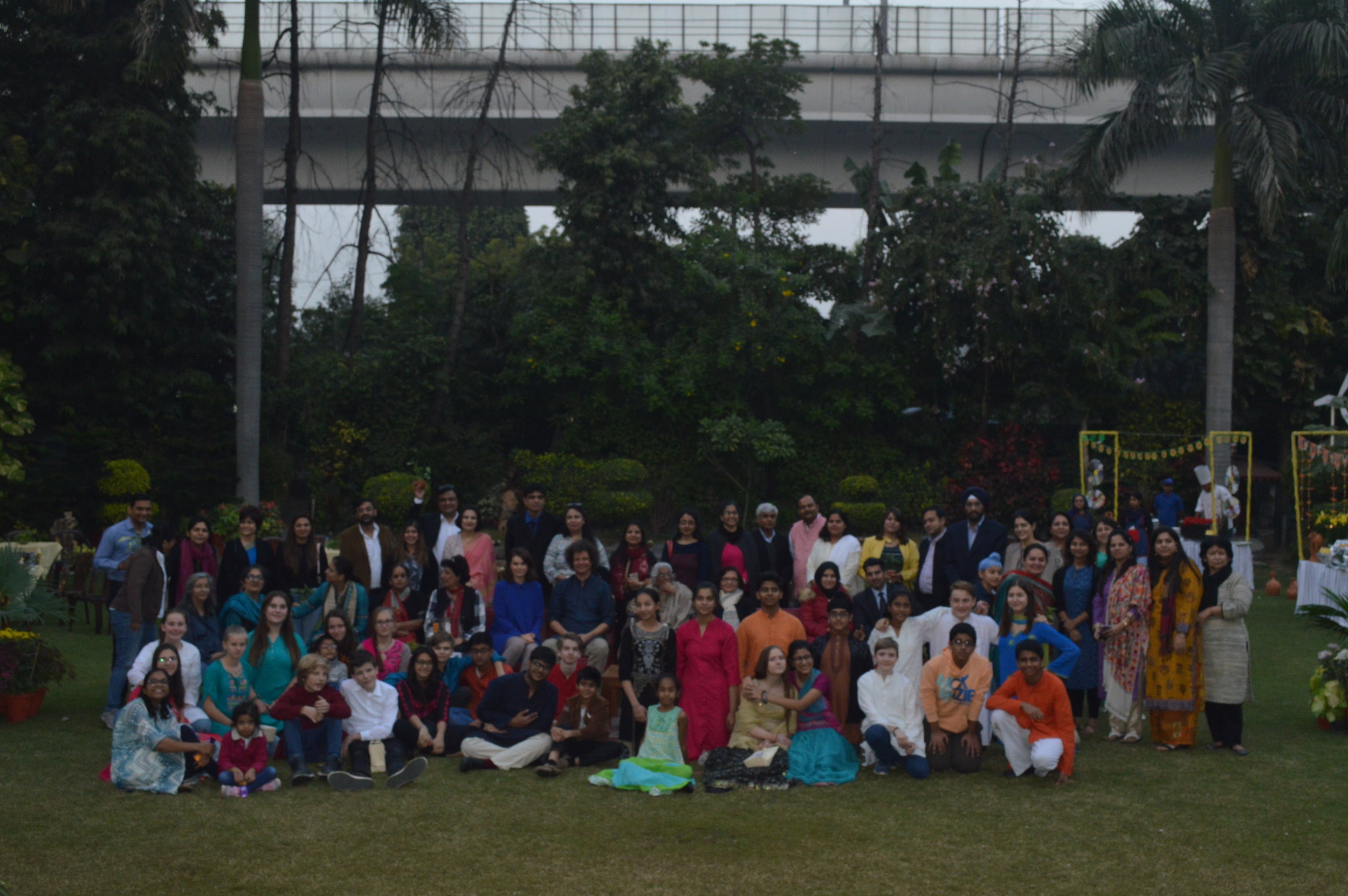 International Friendship Sports Meet,2018
1st December,2018
Bluebells School International celebrated International Friendship Sports meet on 01-12-18, where participants from Russian Embassy School, New Delhi, Iraqi Embassy School, New Delhi, Sabel School Munich, Germany and Bluebells School International, New Delhi participated in the Recreational sports activities organized to foster the spirit of love and friendship and encourage healthy competitive sports globally.Spirit of camaraderie and sportsmanship was for all to see in a large measure amongst the 14 and under-17year olds. . The highlight of the event besides the interesting marathon was the informal march past by all the participants carrying a message " one planet the earth, One family mankind"...... under the National Flags of their respective countries. ".
Chaupal-Class VIII
1st December,2018
Chaupal on "Childrens' Voices for class 8 parents held in school on the 1.12.2018,Saturday from 8-9.30am.The speaker for the session was Dr. Pooja Shivam Jaitley, Clinical Psychologist . Adolescent issues based on survey findings voicing the opinions of the 8th graders was the highlight.
Workshop on Understanding Mensuration
Class VII
1st December,2018
A workshop on Understanding Mensuration was organised for class VII on 1.12.2018. A team from NIIT nguru was invited to conduct an interactive session with the students.The students were exposed to various mathematical software tools and lab manipulatives which helped them gain a HANDS ON experience!
November, 2018
Congratulations!
24th-27th November,2018

CMS Luchnow held Quanta, an International Science event where around 70 National and International teams participated. Tavleen Nagi and Kartikeya Sharma bagged third prize in Maths Quiz and Archishi Pathania also was adjudged third in Debate.
New Friends from Sabel School,Munich!
27th November,2018
Bluebells welcomes the delegation from the Sabel School, Munich who Will be visiting us from 27th to the 7th of Dec!!!!
Opening up to a beautiful world of German art and culture blended with its Indian counterpart!!

27th November,2018
Mr Melvyn Roffe, Principal of George Watson College, Edinburgh, visited Bluebells on the 27th of November. He spent time interacting with students and visiting the curricular and co curricular facilites at school. Later over a cup of tea the two principals explored the possiblities of collabarating on exchange programs and projects involving students of both schools.
Friends from Olinca School,Mexico!
15th-26th November,2018
BLUEBELLS SCHOOL INTERNATIONAL proudly hosted its oldest exchange partner for more than 25 years , The OLINCA SCHOOL MEXICO from 15th - 26th Nov, 2018 .15 students and 2 teachers from OLINCA , including their Director Ms Maritere visited Bluebells for an exchange and enjoyed the warm hospitality of the indian host families.The Mexican Ambassador to India,
H.E. MS MELBA PRIA graciously consented to meet the delegates along with the Cuban Ambassador Mr Oscar Martinez and other dignitaries at Bluebells . The visiting delegation enjoyed the experience of indian sports, culture and arts along with dance and music.The students of both the schools have become friends for life and Bluebellians are eager to visit Mexico for a reciprocal exchange next year .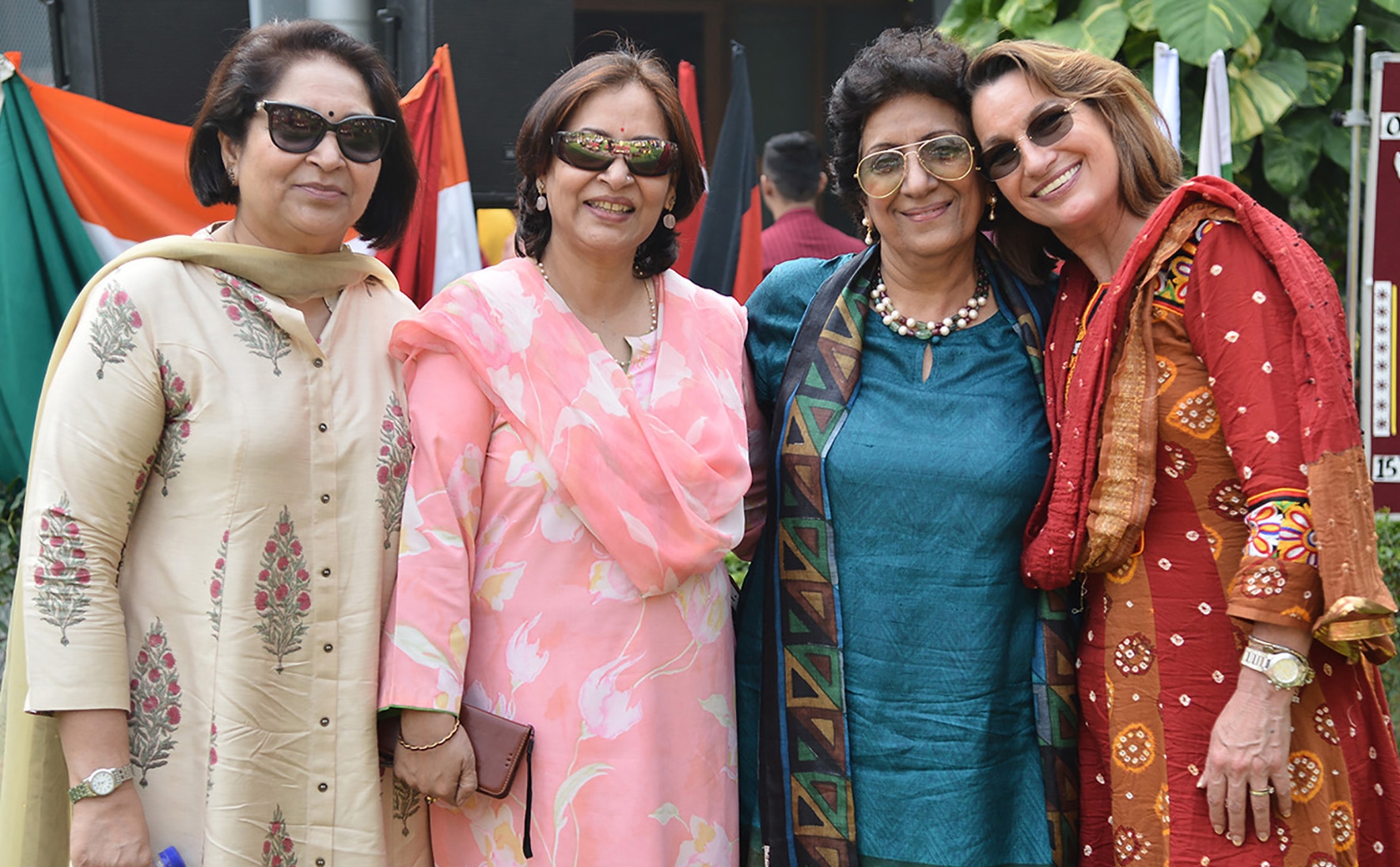 Congratulations!
24th-25th November, 2018
Bluebells School's MUN Club won Runners UP, School Delegation, CRUX Model United Nations @ Apeejay School .

17th November,2018
Harshvardhan Pandey XIIA and Gaurav Nagar XIA won the First prize in Model Making competition Effervescence held at St. Columba's School. The theme of the competition was Innovative Solution to Plastic Disposal. Our team

Dia Gupta(6-A) and Shreyas Moitra(7-C) participated in "Inverse Rhapsody",an Inter -School Competition held at DPS R.K Puram on the 17th Nov,2018 and bagged the First position in the same.
Chaupal-Class 10
17th November,2018
Chaupal on "Children's voices" for class 10 parents held in school on 17th Nov'18, Saturday, from 8.00 - 9.30 am.The speaker for the session was Dr. Pooja Shivam Jaitley, Clinical Psychologist.
TEDxYouth@BBS
November 3
On the 3rd of November, students of Bluebells organised TEDxYouth@BBS, at school. The theme for the event 'Power of One - Be the Change' attracted speakers from diverse walks of life to share ideas worth spreading. Attendees listened with rapt attention to speakers share how desire to touch lives beyond their own pushed them to explore what was just an idea. From helping the farmers of Vidharba, to having an alternative school with students from the age of 7 to 70, to using theatre to spread social messages and expressive arts as a medium of expression for vulnerable juveniles and using technology to assist the differently abled were all diverse ideas but with the single goal of 'making a difference to humanity'.
October, 2018
QUEST Model United Nations
October 25-27
QUEST-MUN OPENING CEREMONY
25th OCTOBER,2018
Chief Guest – Mr. Derk Segaar, Director, UNIC
Guest of Honour - Dr. Miki Horrie
Principal,Ritsumeikan Primary School, Japan
New Friends from EIB Paris!
14th-26th October,2016

Bluebells School International has a new exchange partner - The Ecole International Bilingue, Paris, France.
Our exchange started with their first visit to Bluebells from 14th-26th Oct 2018. 17 students and 2 teachers of EIB enjoyed home stays with the Indian families and various Indian cultural, sports, art and other activities at school. They made many friends across all classes and visited not only Delhi monuments for heritage walks, but also visited Jaipur and Agra as a part of their trip.
The highlight was the Hindi song and Indian dance prepared by the Indian and French students together over their stay which they performed together at the end of the stay.
Students of Bluebells will visit EIB Paris for a reciprocal trip from 10th-24th April 2019. We hope to do an art and history project together during that trip.
Trip to ISRO
16th-21st October,2018
A group of 36 students along with 3 teachers went on a school trip to ISRO, Ahmedabad, GIR Forest and Diu Island from 16th to 21st October. This highly informative and interactive Interdisciplinary visit offered a glimpse of astronomy, flora and fauna of Jungle, Fun at beach and learning of life skill lessons. Visit to Diu Fort and Ashoka Edicts at Junagargh added a history angle to our journey.
11th October,2018
Bluebells School International was delighted to host 14 students and 2 teachers from The Kauniainen High School,Finland on the 11th of October 2018 , very kindly arranged by the Embassy Of Finland , New Delhi, on their recent trip to India.
The students had a wonderful and enriching interaction and discussed International trade and business in the growing Indian economy, Indian Finnish economic relations amidst a cultural overview. We wrapped up the short visit with a game of Kabaddi which was a catalyst in building friendships for students of both the schools.
Chaupal -Class IX
13th October,2018
Chaupal on "Children's voices" for class 9 parents held in school on 13th Oct'18, Saturday, from 8.00 - 9.30 am.The speaker for the session was Dr. Pooja Shivam Jaitley, Clinical Psychologist.
61st Annual Day Celebration
6th October,2018
The school celebrated it's 61st Annual day on Saturday, the 6th of October 2018 at Siri Fort Auditorium amidst great zest, vibrancy and elation. Mr. Amit Baruah, resident Editor of The Hindu was the Honourable Chief Guest for the occasion.Rabindranath Tagore's ideologies epitomized in his Poem The Child formed the crux of the cultural show . The dignitaries and guests were superlative in their appreciation of the Bluebells family for a classic programme presented.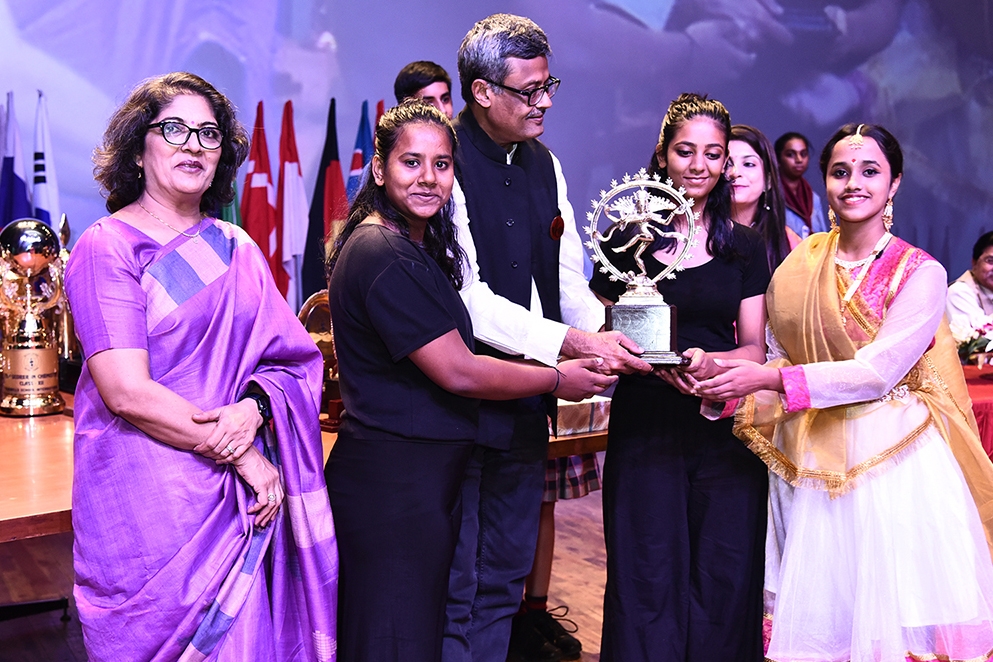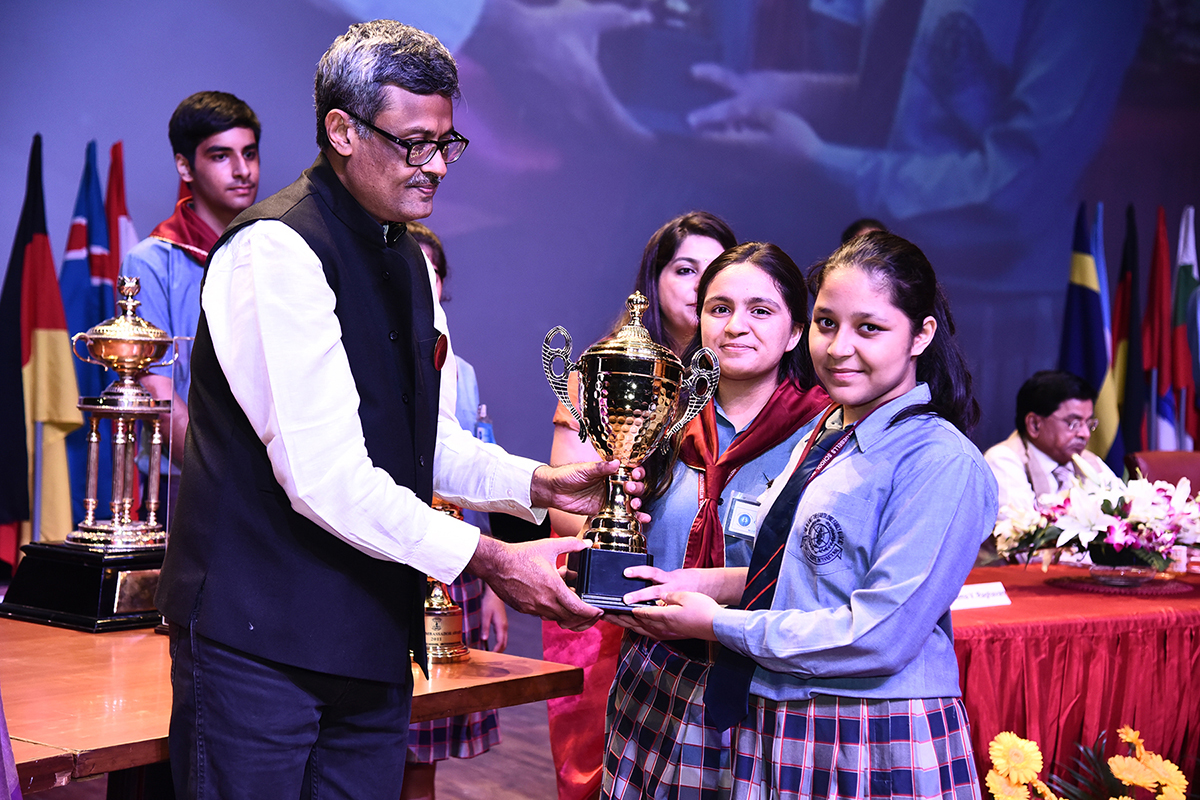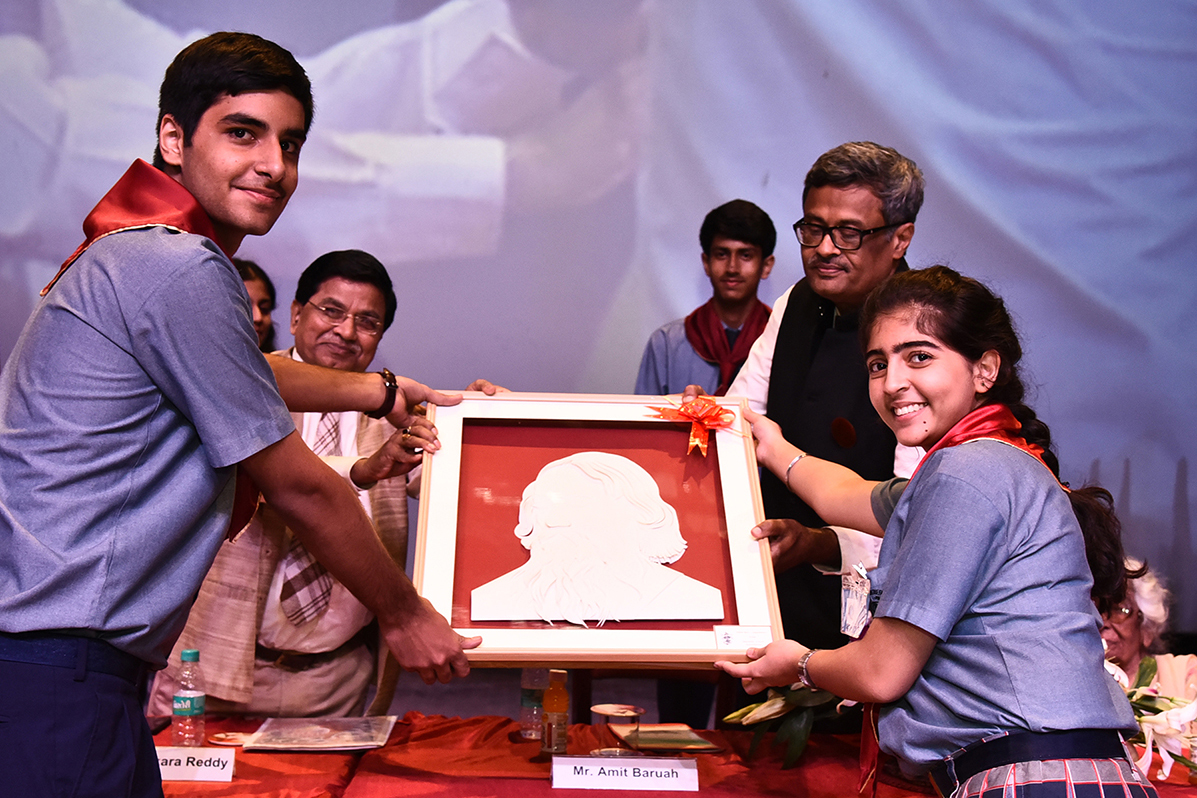 September, 2018
Field Trip to Qutub Minar
August, 2018
Bluebells Celebrates Independence Day
Bluebells School international celebrated Independence Day with unprecedented patriotic fervour on Aug 14, 2018. The gamut of celebration activities held on the campus consisted of a special Independence day Extravaganza, the march past and pledge taking ceremony, poetry recitation, debates and role plays. The Chief Guest-Ms. Deepa Gopalan Wadhwa,Former Ambassador Indian Foreign Service(Retd.), reiterated and reminisced about the struggle that our forefathers and freedom fighters braved so that we could enjoy the haven of freedom that we have been enjoying for the last 71 years.
July, 2018
Chaupal
Monthly Chaupal for Parents. On the 28th of July, Dr. Yusuf Merchant, MD Psychiatry & Behaviour Therapist from Mumbai conducted an engaging and highly interactive session with parents -Conversations with your Child.
Session for Students
On the 28th of July, students attend a session on Substance Abuse conducted by Dr. Yusuf Merchant, MD Psychiatry & Behaviour Therapist from Mumbai and his team.
Book Week 2018
Bluebells celebrates Nelson Mandela's
100th Birth Anniversary
Bluebells school International on the 16th of July 2018, celebrated the 100th Anniversary of Dr Nelson Mandela. The life of this great hero of South Africa has inspired people from different countries of the world. The students of our school put up a cultural extravaganza based on his life in the Robbin Island prison and the coming of age of a world leader. The Chief guest of the event was Dr Hlamalani Nelly Manzini, the High Commissioner designate to South Africa. The Guest of Honor was Mr Anand Sharma, deputy leader of congress parliamentary party in Rajya Sabha. The event highlighted the decade long friendship of South Africa and Bluebells School, and together they have fostered peace and friendship as a team of changemakers.
May, 2018
Premier of Victoria writes letter of Appreciation
Honourable Daniel Andrews MP Premier of Victoria, Australia, writes a letter of appreciation to Bluebells following his visit and interaction with students at school.
Annual Health Check-up for the helpers
The Old Students Association of Bluebells (OSAB) organised an Annual Health Check-up for the helpers on 19th of May, 2018. The camp was held at the school clinic from 8am till 10:30am. Five alumni doctors including Dr. Satish Bhardwaj (Cardiologist and General Physician), Dr. Atul Kochar (Dermatologist), Dr. Umair (Eye Specialist), Dr. Kapil Arora (Dentist) and Dr. Misha Garg (Gynecologist).
Approximately 50 helpers including 25 miraz workers, 4 guards, 7 drivers, 4 conductors, 10 helpers and 4 gardeners were a part of this health check-up camp.
ATL Showcase Event
Bluebells School International celebrated the confluence of creativity and innovation in partnership with Microsoft India Pvt. Ltd. And Juana technologies
ATL PROJECT SHOWCASE EVENT & Inauguration of Tinkering Lab on Thursday, 10th May 2018. Chief Guest Dr. R.Ramanan, Mission Director, Atal Innovation Mission & Guest of honor Dr.Vinnie Jauhry

BSF Youth Fiesta
The BSF youth fiesta is celebrated every year to showcase the plethora of talent in the school as a culmination of the performance of the six houses in many fields. The BSF youth fiesta 2018, was scheduled for 3rd -5th may 2018 at Bluebells School International with the main theme as 'Exploring New Vistas'.The electrifying choreographies from all over the Globe and zealous music compositions from diverse states of India left the audience euphoric in their hearts. These were appreciated by all the dignitaries, audience and judges from the world of theatre and performing arts and BSF Director General Mr. K.K Sharma as he gave away prizes to the outstanding performances.
April, 2018
The 52nd Gowardhan Dass Memorial Inter School Declamation Contest
Our Students (Sejjal Malik - XII and Diwakar Bidhuri- XII) participated in The 52nd Gowardhan Dass Memorial Inter School Declamation Contest organised by Springdales School, Pusa Road on 20th April, 2018. The students won the Rolling Trophy and Sejjal Malik was also adjudged the Best Speaker.
ATL Community Day
Bluebells Celebrated ATL Community Day On 13TH April, 2018 - Invited Students From Government Boys School, Chirag Enclave to Participate in a plethora of activities as electronic circuits, animation, making a Bridge with waste material and 3-D printing.
February, 2018
The Y.Kumar Memorial Assembly For Peace & International Understanding
Our students participated in The Y.Kumar Memorial Assembly For Peace and International Understanding 2018, organised by Springdales School, Pusa Road. The Y Kumar award is given to a candidate for the Spirit of Internationalism and a global consciousness for the preservation of the environment and for promotion of peace and brotherhood. Savita Tripathy ( XII ) was awarded this distinguished award this year on 9th February, 2018.
Valedictory Ceremony
On 3rd of Feb, Bluebells School International celebrated Valedictory Ceremony to bid farewell to out-going batch of 101 students of class XII. May they be the ambassadors of Peace and Brotherhood. We wish them well for all their worthwhile future endeavors.
January, 2018
Global Innovative School Award (GISA 2018) at the Global Millennial Conference, in Dubai on 27th January 2018.
Mr & Miss Bluebells - 25th Jan, 2018
It was a powerful amalgamation of beauty and brains at the Mr. and Ms. Bluebells held in the school auditorium on Thursday, the 25th of January, 2018.
Twenty candidates vied for the coveted titles going through the general awareness, talent and extempore rounds confidently and gracefully exuding the Bluebellian charisma.
Sukriti Vasudeva of XII- B, Dhruv Saluja of XII-B bagged the titles of Ms. And Mr. Bluebells and Purnima Nagar of XII-C and Abhedya Mishra of XII-A won the Ms. And Mr. Talent.
Annual Art Exhibition
Different manifestations of art forms of students from Nursery - Grade 12 were on display at the Annual Art Exhibition at Arpana Caur Art Gallery from the 19th to the 21st of January 2018. The exhibition was inaugurated by Padma Shri Ms Ajeet Caur, writer of short stories on Social-Realist themes and Mr.Javier Blázquez Francés Director of International Activities, Area of Strategic Global Development, Gredos San Diego Schools, Madrid Spain, who called the works of art as REAL ART and not work of budding artists. Principal, Ms Suman Kumar, guests and parents appreciated the master strokes of the youngsters.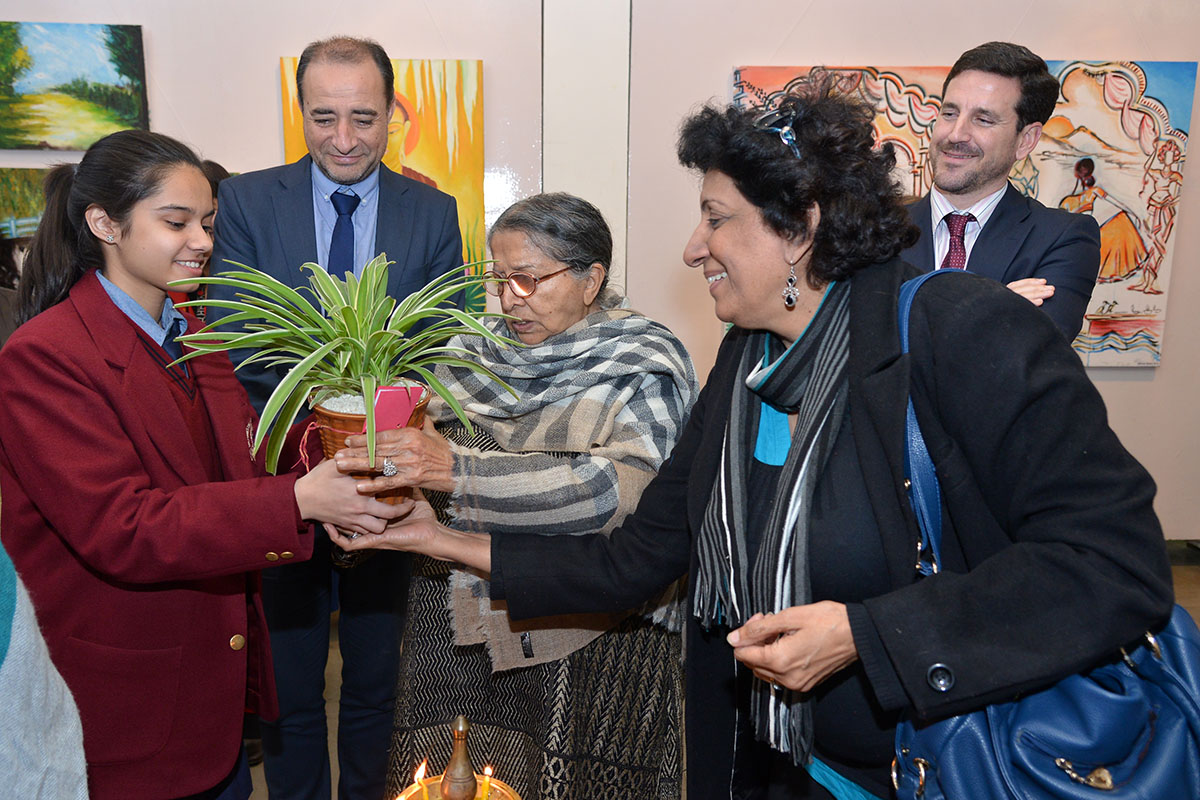 On the 16th of January, the institution had the proud privilege of hosting Honourable Daniel Andrews MP, Premier Victoria on his first state visit to India, to launch the Victoria India Strategy Program, aimed at strengthening ties with India.
OSAB Meet
The OSAB Met on Saturday, the 23rd of December, 2017 and it was a roller coaster of a ride as nostalgia gripped the Ex-Bluebellians and they reminisced with their mentors, friends and guides.
Heart touching words, melodious song renditions and exuberant witty performances added glitz to the affair.
The highlight was the Bluebellians felicitating Ma'am Soni, Ma'am Suman and their teachers which was indeed a warm & emotional moment – marking a befitting tribute to their alma mater.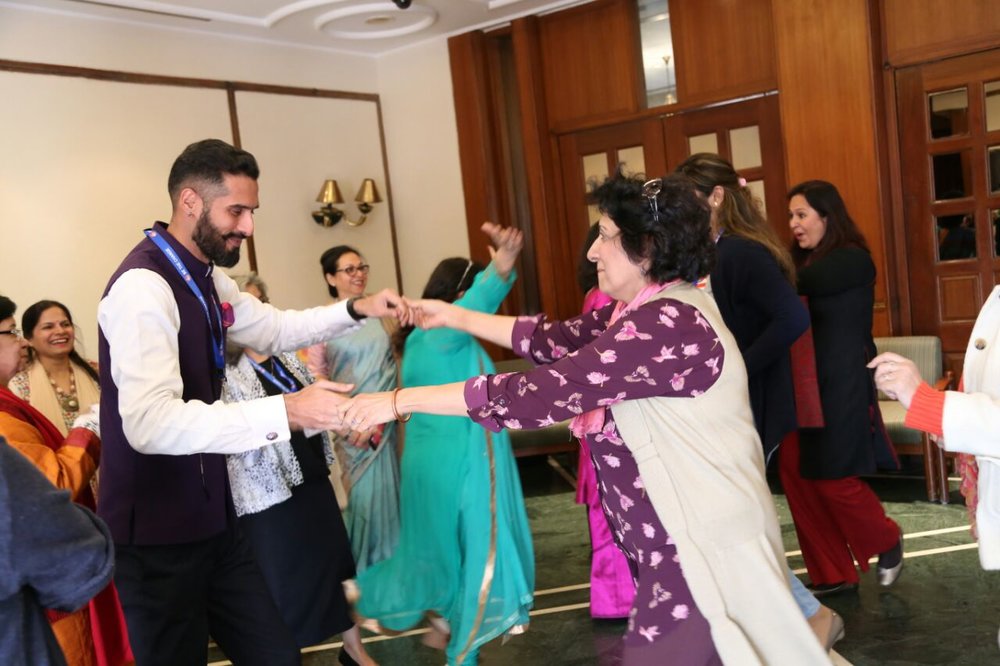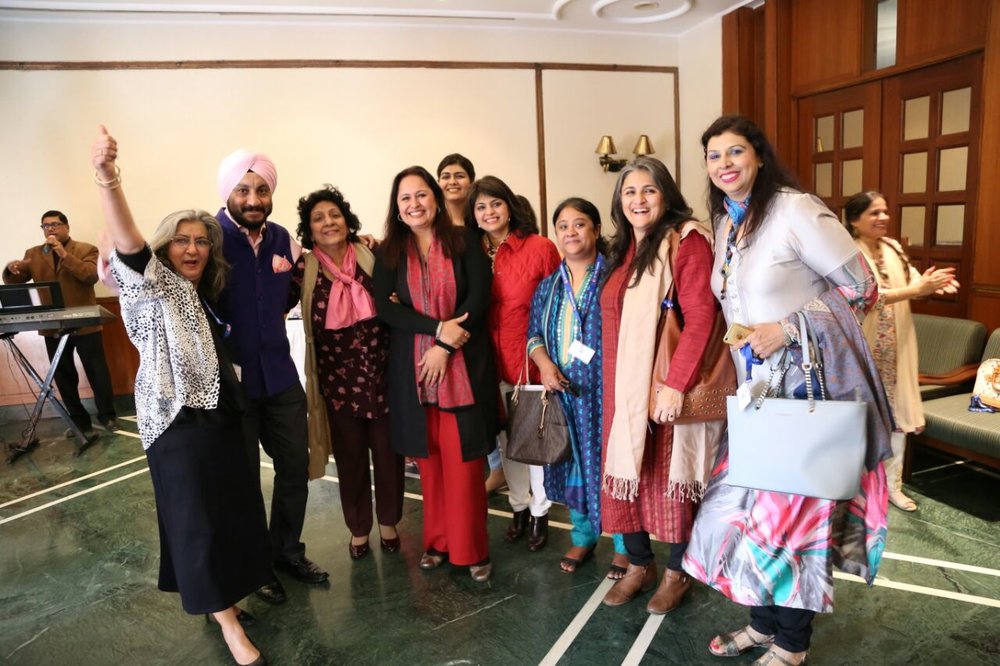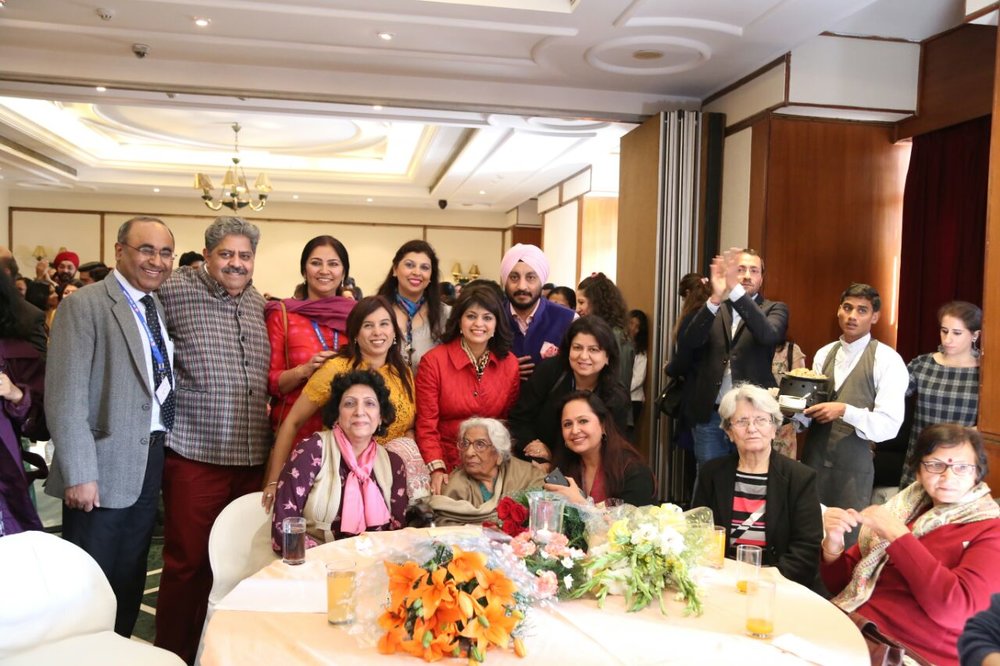 Dr Pitanjali Nayyar discusses - Experimenting Behaviours during Adolescence with parents at the monthly -'Chaupal' at school on the 25th of November.
November, 2017
November, 2017
Indian Oil Corporation Limited organized Vigilance Awareness Quiz on 2nd Nov., 2017 at SCOPE Auditorium, Lodhi Road. Fifty three schools participated in the quiz. our students Ayush Malik and Sprsh Kaushal of grade XII participated and won the first runners' up position. They received a memento along with a cash prize of Rs. 16000/-
Mr. Kshitij Adlakha Cyber Safety expert addresses parents of classes VI to XII on "Keeping your Children safe on the internet"
July, 2017
Prefectorial Handing Over
The 60th Student Council of Bluebells School International was sworn in on the 24th of July . The Chief Guest for the day was Educationist and Consultant Dr. Asha Singh who addressed the students and gathering as life-long learners with service to the nation as their priority. She reiterated the importance of self-belief and said that change can happen only if there is a sense of purpose and willingness to learn. Be Doers to initiate change was her plea to the new Prefectorial body.
Nelson Mandela Assembly
Bluebells School International celebrated the human spirit, epitomized by the global icon, Dr. Nelson Mandela on the 17th of July 2017. The chief guest, Mr. Shree Pillay-first secretary, political, South African High Commission was deeply touched and impressed by the fact that Madiba's humanitarianism had been kept alive in Bluebells School, India. The cultural programme presented was an inspiration to be a change and follow the footsteps of the great leader.
NATIONAL CONVENTION FOR EDUCATORS
Bluebells School International hosted a 3 day National Convention for Educators from the 1st to the 3rd of July17 on the theme- The Power of One:Be the Change,dedicated to the 60th year celebrations of the school since it's inception.Guest speakers included change-makers like Dr.Rajni Kumar, Mr. Anil Swarup, Dr. Mallika Sarabai,Mr. Bunker Roy, Ms. Avnita Bir, Ms Jo Chopra, Ms Natasha Jog, Tannishtha Chatterjee who all presented powerful views, talks and performances.The finale was the musical rendition by Kabir Cafe, neo fusion band from Mumbai inspiring change.
June, 2017
Bluebells School International Visits Japan, June 2017 - A Report
May, 2017
A TRIP TO NOSTALGIA IS WONDERFUL FOR THE SPIRIT-AS WAS EVIDENT IN THE COMING TOGETHER OF THE EX-BLUEBELLIANS FROM 1982-2000BATCHES ON THE 13TH OF MAY 2017...Back in school they all made memories, had fun, sashayed to groovy beats ,sang songs of cheer and couldnt get enough of the lady who dreamt of a beautiful paradise and achieved it by shaping personalities and grooming the leaders of today-Ms. G.Soni,Founder Principal of the Bluebells Empire.The Osabians longed for the merriment to go on as they reminisced about the beautiful era gone by.
YEARS AGO, THE CAPS FLEW..........
OH MY, HOW TIME HAS TOO!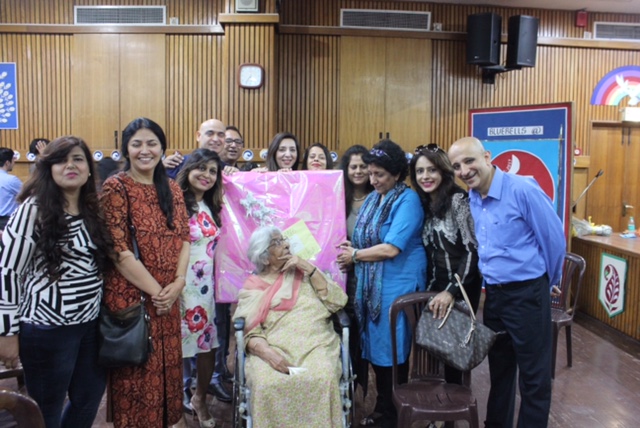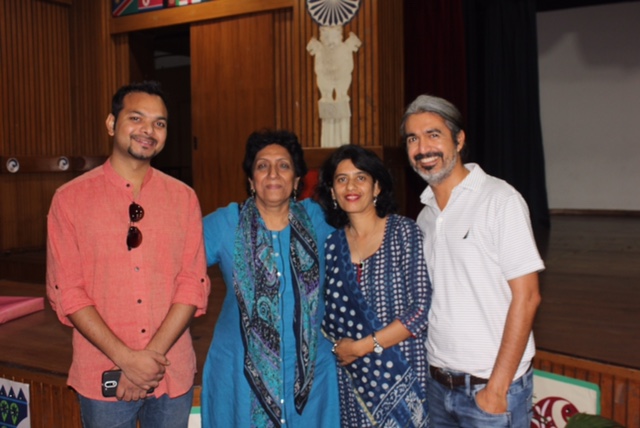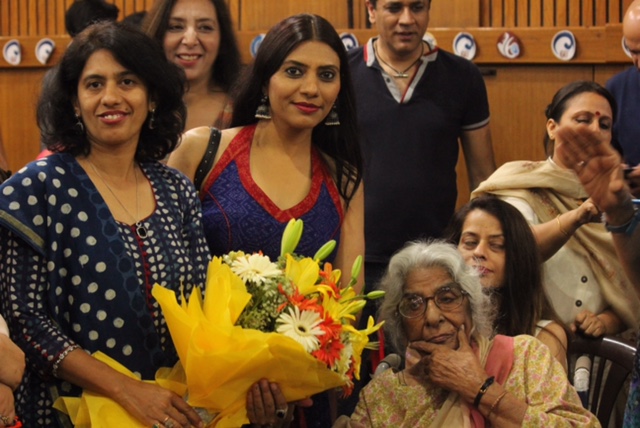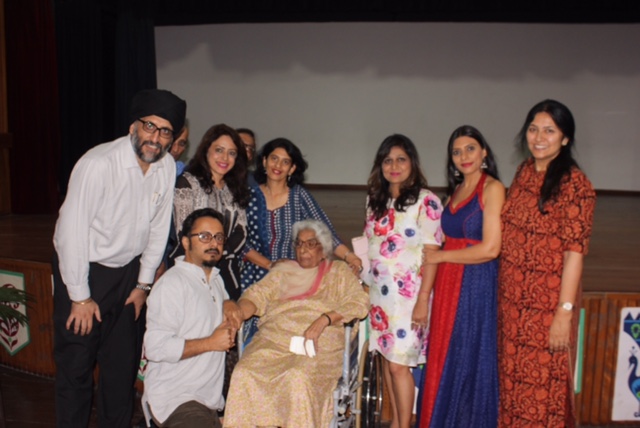 9th Mathematical Genius Award
The 9th Mathematical Genius Awards (2015-2016) conducted by an NGO – Society of Education Council is an event organized by experts in mathematics with an objective of promoting and identifying Mathematical Genius in the State.
BSF youth fiesta
The BSF youth fiesta is celebrated every year to showcase the plethora of talent in the school as a culmination of the performance of the six houses in many fields. The BSF youth fiesta 2017, was scheduled for 4th -6th may 2017 at Bluebells School International with the main theme as 'Embracing the Only Constant –Change'.The electrifying choreographies and zealous music compositions left the audience dancing in their hearts. These were appreciated by all the dignitaries, audience and judges from the world of theatre and performing arts and Bsf Director General Mr. K.K Sharma as he gave away prizes to the outstanding performances.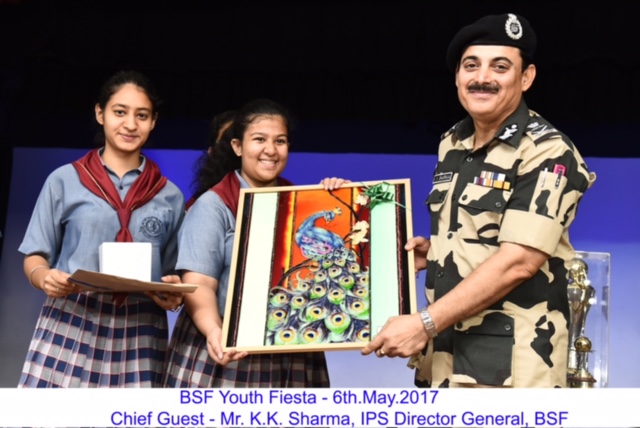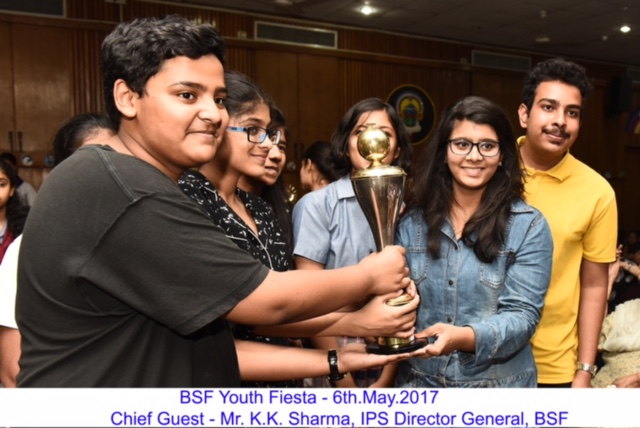 April, 2017
Fostering innovation and learning by doing, Science department organised a hands on physics learning experience in collaboration with Cardiff University. Proff Steve Watts conducted the session for science students of grade 11, whereby students designed Simple Pendulum and performed various experiments to study its dynamics in detail.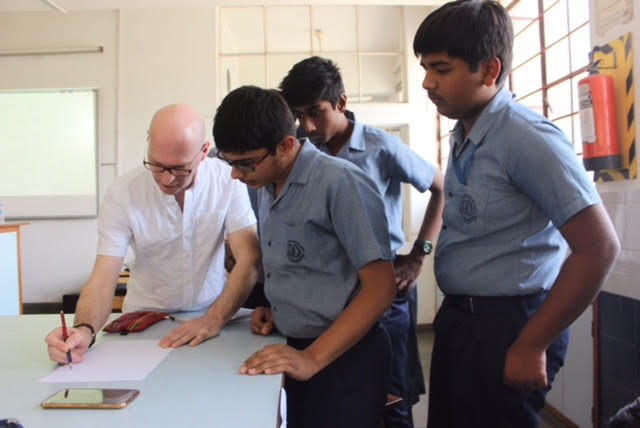 On the 6th of April 2017, Mr Kshitij Adlakha, cyber expert addressed students on internet safety and cyber security.
January, 2017
Mr & Ms Bluebells - 30th Jan, 2017
Mr and Ms Bluebells contest is the most awaited event for the outgoing batch of class XII. This year Mr Bluebells' title was conferred on Debangshu Mukherjee and Ms Bluebells on Ushni Das Gupta. The Mr Talent crown was conferred on Ishaan Bhattacharya and Ms Talent was conferred on Muskaan Bose.
Congratulations to the proud winners!
December, 2016
Niamat Rai Trophy
Won the coveted RS Niamat Rai Memorial Contest - the prestigious inter-school competition for investigatory projects in Mathematics that aims at fostering, in young people, "a sense of exploration of new possibilities", a pedagogic principle innovated by the late Mr Niamat Rai, a renowned mathematician and long associate of Springdales school.
October, 2016
Annual Day & Prize Giving 2016
Bluebells School International celebrated the 59th Annual Day and Prize giving on 5th October, 2016 at Sirifort. The students exhibited their talents through a play - 'Suleh-Kul'- based on Akbar's philosophy of love,peace and brotherhood. Mr.P.Pavan.K.Varma, a prolific writer,diplomat and former member of the Rajya Sabha was the Chief Guest and gave away the prizes to students.
DK Quiz Finale
Anhad Singh and Tarik Emir of VIII D were the first runners' up at the DK Quiz Finale 2016 held in Delhi.
September, 2016
We congratulate the student teachers of class XII for their exemplary and praiseworthy performance on Teacher's Day.
August, 2016
Independence day 2016
Independence Day was celebrated on 12th August 2016. The chief guest on the day was Mr Krishan Kumar Sharma, Director General, BSF.